Kenny Rogers: A Good Old Fashioned Family Man…Who Sings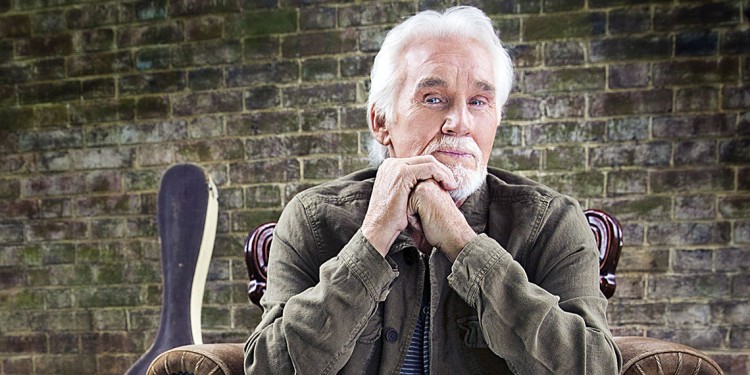 On a warm summer's eve, on a train bound for nowhere, the hero of country music legend Kenny Rogers' epic musical narrative, "The Gambler," met a drifter who taught him the meaning of life, at least the way he'd chosen to live, and the rules you had to follow just to get by in the world. For Rogers himself, personal fulfillment is not about knowing when to hold 'em or fold 'em or how to make a quick buck. For Rogers, a winning hand is a full house.
"You come to a certain point in your life where it's not about you anymore and, for me, it's about my wife and my boys," Rogers said. "I want to be able to do things with them and for them so, when I'm gone, they can look back and remember how cool those things were and the time we were together."
But it took a long time for him to arrive at this epiphany, as Rogers spent the first few decades of his half century-long career putting his job first and family second. Though you cannot deny how wildly successful Rogers did become, winning every award imaginable, being inducted into the Country Music Hall of Fame in 2013, and crossing over into several genres before essentially taking over the world, that fame came at a cost.
"There's a fine line between being driven and being selfish and I think I was selfish when I was younger," he said, "I have two older boys and, when I was married before, I put myself and my career ahead of my family. I don't know where I'd be today if I hadn't done that, but I do wish I'd been there for my boys. But they are dependable, they are very good at what they do and they are wonderful men, so I guess that's all a father can ask."
When he married Wanda Miller in 1997 and the couple had twin boys, perspective changed for Rogers and he knew it was time to do things a little differently.
"My bucket list now concerns my kids," he said. "There are things I'd like to do with them so I'm putting work on the back burner for a while and really making them my priority. They want to go to Europe, so I'm going to take them to Europe, and I want to take them to Alaska for the salmon run because it is so special. These are things I've done that I know I've enjoyed and I want them to experience them, too."
He may have triumphantly conquered the grueling music industry, but parenting offered up a whole new set of amusing challenges that Rogers welcomes with open arms.
"They're eleven and they're a handful," he said. "They go to church with their grandparents sometimes, when I'm on the road, and it's a church that invites people to go up there and sing. They invited Justin and Jordan up and they start singing 'show me a bar with a good looking woman.' I thought it was highly inappropriate, but the people thought it was funny. They say that, if you have kids at my age, it can either make you or break you and, right now I'm leaning towards break. But they're good boys."
Although completely dedicated to his family, Rogers knows he has a responsibility to those whom have supported him the last five decades, his fans, and he continues to do whatever he can to honor their loyalty.
"What I always keep in the back of my mind, the whole time I'm up on stage, is that I'm so lucky that I still have this fan base at my age. I really respect and appreciate that, so I try to be what I think they want me to be," he said. "At times, I think I'm good at it and other times I'm probably not, but I will always get up there and try. Someone asked me if I ever get tired of singing my hits and I said no because I'd hate to be the guy who goes out there without them."
Rogers continues to reward his fans with performances all over the globe; most recently at sold out shows in Africa, Morocco and even an appearance in front of 130,000+ people at the U.K.'s Glastonbury Festival.
"The average age was about 25 years old and I said 'Don't you realize that this is not my crowd?' and they said that I had to grow if I'm going to get better. I said 'What do you mean grow? I'm 76 years old. I've grown enough.' But they sent me there and, surprisingly, it went really well," Rogers said. "I think I could do whatever I want, at this point, but I choose not to because there are other people who are more in touch with the times than I am. You can get so caught up in your own power that you can make some terrible mistakes. I have a record company and management who I believe in and who I trust and they know what they can do with what I've got."
In addition to his current U.S. tour, which consists of a show packed with 25 of his biggest hits, Rogers is still producing new music. This fall, Rogers will be releasing Once Again It's Christmas, his first holiday album in seventeen years, which features a mix of standards as well as new music and collaborations with musical guests including Alison Krauss, Jennifer Nettles, Home Free, Jim Brickman, and Winfield's Locket.
Rogers continues to give his all to his audience, though mobility limitations have slowed him down a bit. He is the proverbial gambler; a unique and undeniable mixture of mystery, history, confidence and vulnerability that has made him a household name. But is the man we see on stage the man Rogers really is or is it a persona adopted from a character in a story within a song?
"I think that's me," he said. "I've always said that the people who last the longest in this business are the people who are honest with their audience. Look at Willie. Look at Dolly. Look at Waylon. These guys are still around because they are who they say they are. Your audience doesn't like to be fooled and it's hard to keep that up. Rather than try to be something you're not, you should just be who you are and they either like it or they don't. But at least you can be you, and it's consistent."
Rogers is not an attention grabber or persona chameleon to the likes of a Lady Gaga or Madonna. He is a husband and father who has been successful in teaching his own boys, through example, a lesson all parents strive to impart on their own children – just be you, come hell or high water, and you'll end up being the best "you" you can be.
"I would never do anything to discourage people and I want everything I do to be positive in some way, for the fans as well as for my family, and I'm glad I got to where I am today just being myself," Rogers said. "I always tell people that you need three things to be happy. You need someone to love, something to do and something to look forward to. They will be three different things for you than they are for me but, if you have those three things, you're doing pretty well for yourself."