Kawika Kahiapo Brings Aloha Spirit to Temecula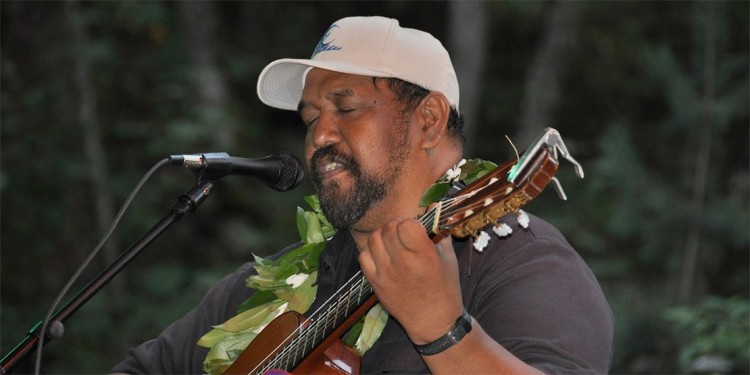 T
he Aloha Series of concerts, presented by Mehe'ula Music Productions and Temecula Presents, has become so popular that another show was added to to the schedule, bringing a bit of the islands to Temecula once again.
On Sunday, March 22nd at 2:00 pm at the outdoor amphitheatre of the Community Recreation Center, slack key guitarist and vocalist, Kawika Kahiapo returns to the area to spread the spirit of aloha around the Inland Empire.
"Telling my stories, accompanied by hula, during performances is usually driven by aloha," Kahiapo said. "The performance is an open book, revealing our culture, thoughts, history, and even pain. But the spirit of aloha is the power that drives the delivery."
Kahiapo's music is synonymous with the "slack key" fingerstyle of guitar playing.
"Slack key guitar is sometimes called drop tuning or alternative tuning," he said. "The style is synonymous with the 'Hawaiian feel.' Many of us crossover and blend traditional and contemporary styles, of course use of Hawaiian language weaves it all together."
Recording and performing for over 37 years, Kahiapo has collaborated with dozens of artists including Jack Johnson, Kaukahi, Palani Vaughan Melveen Leed, Brother Noland, Leon and Malia, Kawehi Lindsey, Jesse Rivera, Kapena, Pierre Grill, Na Leo Pilimehana, Kelly Boy Delima, Del Beazley, Native Hawaiian Band, Cyri Pahinui, Amy Gilliom, Dennis Kamakahi, Daniel Ho, Paula Fuga, Martin Pahinui, Rene Paulo, and Walt Keale.
Currently promoting his new CD "Ku'u 'Aina Aloha," the music of Kahiapo transports audiences to a place of serenity and peace that can only be found on an escape to the Hawaiian Islands.
After a successful sold-out concert in Temecula last year, Kahiapo's outdoor show on March 22nd will be so authentically Hawaiian that the audience may even notice the scent of plumeria and pineapple.