Honey Whiskey Trio Put the Fun in Folk Music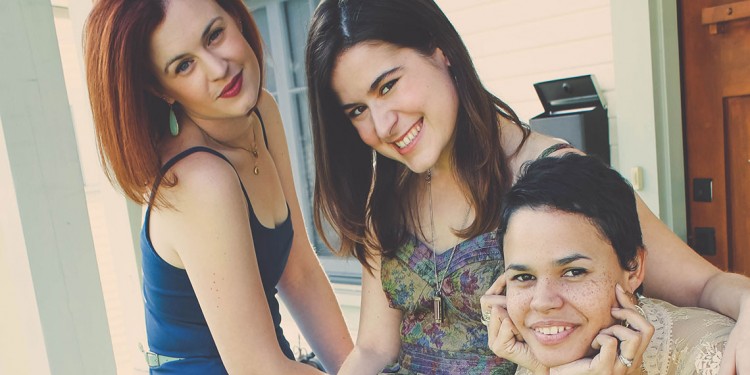 W
hen you think about folk music, the mind may evoke images of an elderly man with a long beard strumming a banjo or a flower-wreathed child of the sixties singing an acoustic version of "Puff the Magic Dragon." The members of the Honey Whiskey Trio are blowing those misconceptions right out of the water.
With their roots in vocal jazz, Courtney Gasque, Ann Louise Jeffries Thaiss, and Christina Wilson of the award-winning Honey Whiskey Trio combine their voices to tell stories through song in a new and innovative way.
"We strive to preserve folk tradition in our music while still giving our songs the honey twist," Gasque said.
Having all been members of the CSU Long Beach's award-winning vocal jazz ensemble, Pacific Standard Time, Honey Whiskey Trio joined forces in late 2012 and were soon captivating audiences and winning awards including the Harmony Sweepstakes National Competition and have been featured artists at the Los Angeles A Capella Festival, the FAR-West Folk Festival and the Long Beach Folk Revival Festival, among others.
On Friday, April 10th, Honey Whiskey Trio will bring their fresh take on folk music to the inland Empire. The threesome will perform at the Community Recreation Center, due to current renovations at the Old Town Temecula Community Theater. They will be joined on stage by guest musicians Matt Politano (piano) and James Yoskizawa (percussion.)
Honey Whiskey Trio is a perfect evening of music and storytelling for the whole family and, in Gasque's own words, it's going to be a "hoot and holler" good time.
"We are so excited for our debut Inland Empire performance and hope to have many more in the future. It's going to be a fun night with some brand new takes on some of our songs," Gasque said. "We can't wait to get on stage and give the audience an evening of laughter, goosebumps and a bunch of songs about whiskey and murder. Hey, it's folk music!"