Heaven Isn't Too Far Away When Warrant is in Town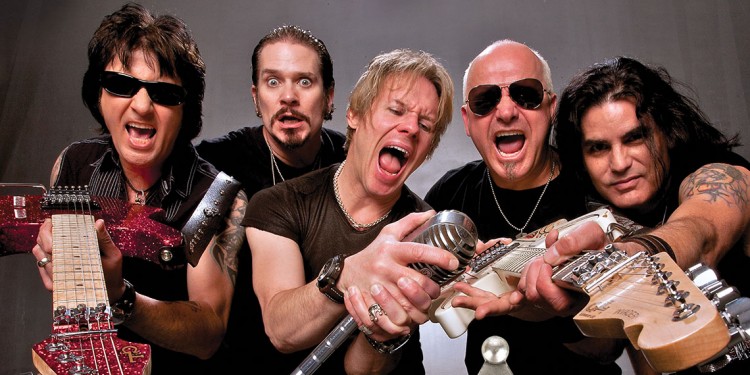 The year was 1984 and big hair, thick eye liner and gold lamé pantsuits were all the rage…for guys. A new batch of heavy metal rockers, known as glam bands, were emerging all over the Los Angeles club scene and nineteen-year-old guitarist, Erik Turner, gathered his musician friends and attempted to join the ranks of such current rockers as Aerosmith, Alice Cooper and Motley Crue. After finding moderate success with a rotating roster of musicians, it was the discovery of vocalist Jani Lane that seemed to be the missing cog in Turner's quick-moving machine. Turner had found his solid line up with himself and Lane, along with drummer Steven Sweet, bassist Jerry Dixon and guitarist Joey Allen and his band, known as Warrant, was ready to rock. And they rocked hard.
Warrant went on to strike radio gold with numerous top 10 hits including "Heaven," "Uncle Tom's Cabin," and probably their most memorable hit, "Cherry Pie;" a song that's popularity was solidified by an iconic music video starring a young blond named Bobbie Brown and a few juicy maraschinos.
Thirty years after their first incarnation, Warrant is still a major presence in rock and roll, both touring and recording. They released their newest studio album Rockaholic as recently as 2011 and are currently touring with another familiar face from the eighties, Lita Ford.
Turner, a Murrieta resident, recently spoke to me about the tour, which hits Pechanga Resort & Casino on July 3rd, as well as the history of the band that just won't fade into music history; much to the delight of their loyal fans.
"You remember the soundtrack of your youth and I think people want to come out and hear those songs from when they were in high school or college. They still dig on hearing that music and they still dig on melodic rock and roll," Turner said. "We have our core audience, which is late thirties, forties and early fifties, but some of them have started bringing their kids so we're now appealing to all ages."
The Warrant of 2015 is much like the band the fans would recall from the good old days, with four out of five of the original members. Vocalist Robert Mason has replaced Lane, who had joined, quit and rejoined the band several times before his tragic death of acute alcohol poisoning in 2011.
"In 2007 and 2008, Jani came back to the band for about ten shows but, during that period, his alcohol consumption was out of control," Turner said. "He was in and out of rehab three times and had two hospital stays so, in late 2008, it became a mutual decision that he should just stay home and get healthy. And we kept going. Then he passed away in 2011 and, although it's sad, we kept going. We are always going to carry on."
And carry on they do. Warrant manages to stay fresh with releasing new music, but will always give due credit to the classics that made them a household name in a decade crowded with heavy metal look and sound-a-likes. For the July 3rd show, Warrant enthusiasts can expect to hear two songs from Rockaholic as well as fifteen of the hits they know their fans are coming out to hear, but are performing the old favorites with a new, mature sensibility.
"We're still playing the same songs we've always played, but we're better musicians now, I would hope," Turner said. "We've been doing it for a long time and, though we still party a little bit and like to have a good time, our emphasis is now about putting on a great show and playing our best. We've definitely gotten a lot better sounding and gotten a lot tighter as a band and I think we're sounding great."
Looking back on the music industry from Warrant's inception to present, Turner reflects on the fact that fans will now probably purchase a song or two from their new album on iTunes and hopefully like what they hear enough to choose a few more, as opposed to heading down to Sam Goody and investing in the entire album; getting the chance to listen to it as it was meant to be heard, as one cohesive artist statement.
"When we were coming up, people bought an album or a cassette or a CD, and you got really in to who was in a band and who wrote it and produced it. You had the lyrics right there to read, with pictures of us and stuff," he said. "Nowadays, my son, like all the kids, will just download one song. He has no idea who wrote it. He has no idea who's in the band, unless it's a solo artist. It's a lot more challenging now for a young artist coming up to build a relationship with their audience, except to wait and hope they have a new hit single come out soon."
It's been a busy thirty years for Warrant and, if staying power is any indication of the quality of their work, Warrant can be considered part of the top-tier of bands in their always-crowded, albeit constantly changing, heavy metal genre.
"Our career sort of defines why they call it rock and roll because we literary have been rocked and rolled," Turner said. "You get knocked down and you get back up. We've stayed in the game and I think that's been our biggest attribute. We just love playing music and the energy that comes off the stage. Its rock and roll, and it's still a lot of fun and we definitely have a great appreciation for the fact that we still get to do it."