Cabaret at the Merc Celebrates Holiday Music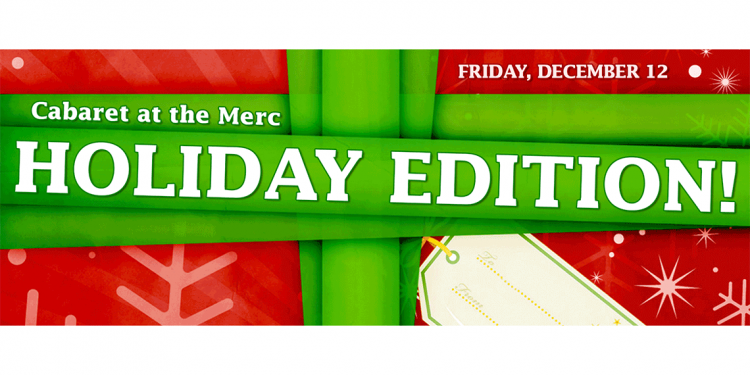 The musical series, Cabaret at the Merc, is decking the halls of the popular Old Town venue for their very special Holiday Edition and Co-Producer Jordan Beck is thrilled to have the chance to celebrate the season.
"A holiday-themed show is something we've wanted to do for a long time but this is the first time we've had the chance because our usual last-Sunday-of-the-month schedule always lands us after Christmas," Beck said. "You'll be sure to hear many of your favorite Christmas carols sung by an extremely talented bunch of performers, backed by a live band."
Together with his producing partner J. Scott Lapp, Beck's team has put together sold out shows with a wide range of themes from Broadway to film to pop icons like The Beatles and Michael Jackson. For the holiday show, Beck is happy to contribute to a time of year where the music is such an essential component to upholding traditions and making new memories.
"I think music plays a huge part in the holiday celebrations. After all, when you start hearing that Christmas music on the radio, it's a signal that the holidays have come," he said. "From the earliest Christmas hymns that are still with us today to the more contemporary Christmas songs that have become just as nostalgic, hearing them can't help but warm my heart."
As always, the monthly music series will include a lineup of some of the most talented professionals in musical theater; several returning to the Cabaret at the Merc stage including Allen Everman (Beatles and Rat Pack), Allyson Spiegelman (It's Tony Time!), Lindsay Joan (Spring Awakening), Leonard Patton (Motown Nights) as well as newcomer Season Marshall Bowers, joining the Cabaret for the first time.
Cabaret at the Merc will be ending 2014 with their annual New Year's Eve show on December 28th and, early next year, Beck and Lapp will bring the community even more exciting entertainment including a Rising Stars show, showcasing talented youngsters 10 to 12 years old and a night filled with the music of The King of Rock and Roll himself, Elvis Presley.
But, to wrap up this year with a neatly tied red and green bow, Beck, Lapp and the entire cast of Cabaret at the Merc will present a show they hope will become a new tradition in the community.
"Whether it's your first time with us or a return visit, we know this show will definitely get you in the spirit of the season if you're not already," Beck said. "We really hope you will join us for this special holiday treat and we wish you all a Merry Christmas from Cabaret at the Merc!"