25 Signs You're a 40-Something Woman in Temecula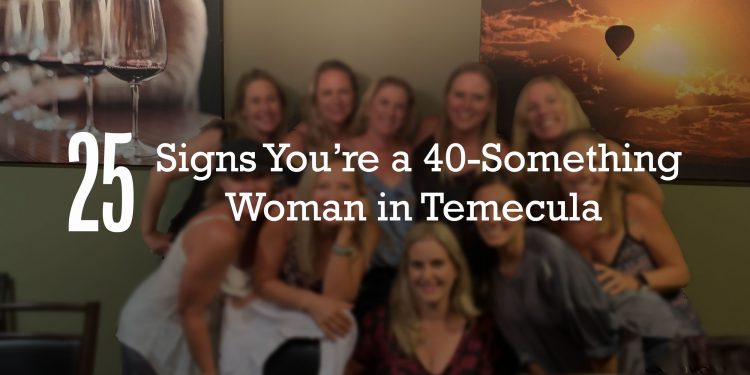 In the early to mid-2000s, twenty-something girls from San Diego and Orange County started getting married and looking for suburban homes for their future families. Unfortunately, they'd all been priced out of their own home towns so they flocked to the closest family-friendly area with affordable housing…the beautiful Temecula Valley.
Fast forward to the year 2020 and those twenty-something girls are now women in their forties and we're all still here in Temecula… in abundance. I mean, throw a rock in the direction of any winery or sushi bar and you'll hit a few dozen of us.
So, this list is dedicated to the middle-aged, cougar-labeled masses that seem to make up 85% of the Temecula population.
You take your kids with you to go day-drinking at Wilson Creek or Longshadow Ranch because the fact that they have playgrounds makes it socially acceptable.
Hair appointments to cover your roots every 6-8 weeks turned into hair appointments to cover your grays every 3-4 weeks.
You go to Walmart in the middle of a weekday, then scoff at the size of the crowds. "Don't any of these people have jobs?"
Occasionally, you casually hide your wedding ring finger so someone will buy you a drink. Part of you wants to see if you've still got it…but mostly you're just trying to save cash. Upside down mortgages don't pay themselves.
Just so many yoga pants.
You go to Blackbird Tavern early in the evening because that's when the DJ plays 80's and 90's music. You gleefully shout "This is my jam!" whenever they play Vanilla Ice or Tone Loc, but you leave at 11:00 pm because, after that, the music is "just noise."
Your book club meets weekly at Europa Village but you haven't actually read a book since "Fifty Shades of Grey." (Same goes for the women in your Stadium Pizza fantasy football draft who order multiple pitchers while asking what a running back is.)
You got your real estate license thinking you could easily get clients because you're a people person. All you got was a great picture of you in a blazer. So, there's that.
You know which days "Kids Eat Free" at which restaurants.
You're in a monthly Bunco group but call it Drunk-o. (The group never makes it past the second round.)
Every (rare) adults-only party you attend feels like it could turn into a swingers' party at any moment. (It's just kind of a vibe you get, am I right?)
You wonder what the hell happened to your skin.
You wonder what the hell happened to your flat stomach.
You wonder what the hell happened to your sex life.
Half your friends get testosterone pellets. The other half get Botox. You get both.
You buy several long blouses and sweaters because they cover your butt, match the one pair of designer skinny jeans you own (from Nordstrom Rack) and go great with "your cute boots."
You know the bartenders' names at Killarney's. Or The Shamrock. Or both.
Your social calendar revolves around that 80's cover band who plays at The Cove…or around that other 80's cover band who plays at Miramonte.
You wear gym clothes around town so people think you work out. You click "interested" on Facebook 5K's and half-marathons just to keep up the charade.
You drive a Honda Pilot. It's probably white.
The last movies you saw in the theater were Frozen 2 and Trolls. But remember that one time you hit happy hour at Chili's and then saw Bad Moms? Good times.
You're still pissed you never got that pair of True Religion jeans in 2007.
You have no idea how to work this (expletive) Instant Pot!
You buy your clothes at Costco.
You still look damn good for your age!
Anything on this list sound familiar? What are we missing? Comment below and share the story with your crew on social media because you know we can all relate, right ladies?
(I just noticed the numerous alcohol references. Hmmmmm…)