Artist Troi O'Rourke Brings Mosaics to Old Town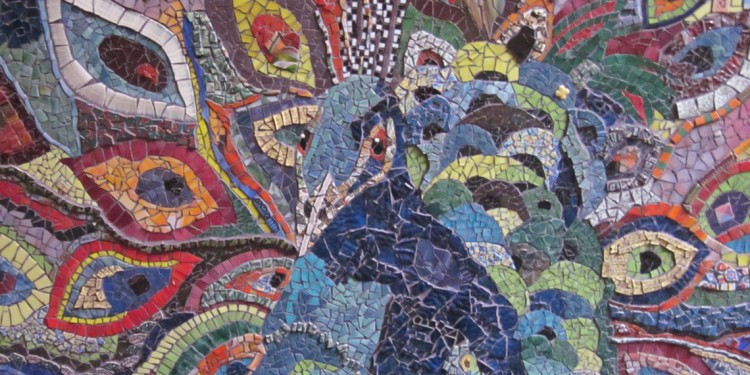 Mosaic artist Troi O'Rourke has taken recycling to a whole new level.
"I'm very green when I do my work," O'Rourke said during a recent phone interview. "I'll use old kitchen cabinets from a kitchen that is being remodeled. I'll use vintage doors and recycled picture frames and pieces of wood. I really try not to buy new items to put my mosaic on. I found a guitar at a garage sale, I put mosaic on it and I gave it new life."
An art enthusiast all of her life, it wasn't until a friend of hers, who was a professional mosaic artist, decided to close her studio that O'Rourke decided to pursue the medium as a full time vocation.
"I flew to Alabama and I bought all of her inventory because she was ready to retire," she said. "So, I loaded up a 16-foot truck and drove from Alabama to California and opened up my studio. I've been doing it for a couple of years now."
Inspired by the whimsical work of Spanish artist Antoni Gaudi, Temecula resident O'Rourke opened Barcelona Mosaics, where she creates extravagant works of art from previously ordinary objects.
"My work is very eclectic and there isn't one style that I follow," O'Rourke said. "I do like to use three dimensional things in my artwork. For example, I have a vintage floral piece that I just finished and the glass pieces are probably about sixty or maybe seventy years old. So, I use a lot of ceramic frogs and jewelry and three dimensional things. I like my art to kind of pop out and not be so two dimensional on the surface."
For her new exhibit "The Perfect Art of Imperfection," opening this Friday at the Gallery at the Merc in Old Town Temecula, O'Rourke brings with her pieces selected to show the true diversity of her work. The items on display include oversized peacocks, a mosaic-covered guitar and even a full-size coffee table completely adorned in tile and stained glass; each piece so intricately detailed that viewers may need to do a double-take.
"I want people to come up to the art, walk away from it, and then come up to it again and say 'I didn't see that the first time,'" she said. "There is just so much to it and you really have to look closely to see all of the great stuff that is in it. I've got a lot of really old china dishes that have been cut up and are just magnificent. It should really take your breath away."
"The Perfect Art of Imperfection" kicks off this Friday evening with an artist's reception and meet-and-greet. O'Rourke looks forward to meeting her Inland Empire neighbors and sharing with them the treasures she takes such time and care in creating.
"I love Temecula and this is going to be a very special event for me," she said. "I would love for everyone who loves art and music and Temecula to come and visit the show because, not only is it an art show, it's also part of the community and I feel people need to be part of their community. It's very hard to explain exactly what I do so they just have to come see from themselves. And they are going to love it."