Ventriloquist Terry Fator Pays Tribute to Fans on Tour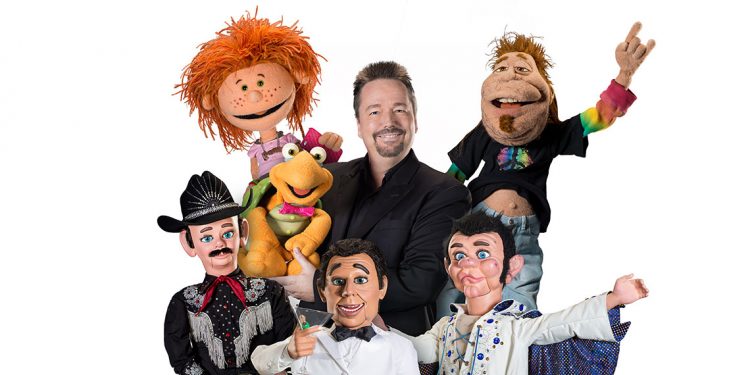 Ventriloquist, singer and comedian Terry Fator wasn't afraid to get his hands dirty while honing his skills, even if he did it while keeping everything else clean.
"My parents were in a janitorial business when I was young. It was a great job and we worked very, very hard, but I told myself that it wasn't really what I wanted to do," Fator said during a recent interview. "Not that I hated it, it was a good job, but I wanted to be an entertainer. So, I spent every second that I was mopping floors and cleaning toilets and emptying ashtrays practicing my ventriloquism."
Fator gained worldwide notoriety after winning the second season of the popular NBC reality competition, "America's Got Talent," in 2007. The following year, Fator signed a $100 million residency deal to become the headliner at the Mirage Hotel & Casino in Las Vegas.
Appearing at Pechanga Resort & Casino on June 25th, Terry Fator's current touring show gives the audience a behind the scenes look at the entertainer's rise to fame; one that his fans played a unique, contributing role.
"When I was on America's Got Talent, they were able to see me on the show and voted for me and helped me get where I am. So, I wanted to let them in on the story, since they were part of that story," he said. "I explain how I started doing impressions and ventriloquism and about being in a band for several years. Then, somehow, the story ends with my own theater and show in Las Vegas."
With the ability to do dozens of impressions like Michael Jackson, Frank Sinatra and Garth Brooks, boasting sixteen of his own puppet characters and possessing the ability to sing, Fator's show combines the skills of numerous talents into one unique experience. It was this brand of originality that Fator feels attributed to his America's Got Talent victory.
"I didn't go on the show to become a big star. That was never my plan. I just thought that I'd get a few clips I could put on a DVD and use to sell my show," he said. "But people just fell in love with what I do. I think I'm the only ventriloquist on the planet who can do singing impressions without moving my lips and people think that's kind of unbelievable. I just didn't realize that it was something that people would want to see in Vegas."
After landing one of the largest residency deals in Las Vegas history, making numerous television appearances and touring all over the world, Terry Fator still remains loyal to the show that made him a star, having never missed one episode of America's Got Talent and always voting for his favorite performers.
Though, in the last nine years, he has enjoyed unfathomable personal achievements, Fator has not forgotten those who helped get him here in the first place.
"I'm always thrilled when people say that they knew I was going to win from the moment they saw me and that they voted for me. To me, that means so much," Fator said. "What's so cool is that my fans actually took part in my success and that, to me, is a beautiful, amazing and remarkable thing. It's always nice to remember that we did this together."