How CrossFit Changes You From the Inside Out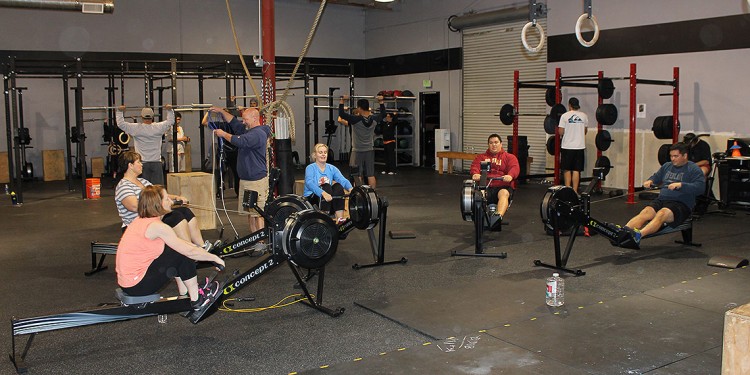 T
his is the story about how I stumbled upon a local business that would end up changing my life.
I had gained some weight over the holidays and, like a lot of people, my clichéd New Year's resolution was to get back in shape. Although I do enjoy jogging and participate in sporadic Run Disney races throughout the year, what I needed was a consistent workout routine that would not only help me to lose those gingersnap-induced extra pounds but maybe even minimize the appearance of the dreaded C-Section tummy pooch.
My husband and I had done CrossFit about a decade ago, when the franchise was in its infancy and, ever since we moved to Temecula, he's wanted nothing more than to start the fitness program again. I remembered being in pretty good shape during our CrossFit era, but I was in my mid-twenties at the time and hadn't already put my body through the trauma of two pregnancies; both which resulted in giant, almost 10 pound, babies. But, I figured the design of the workout must have had something to do with how good I felt all those years ago so I decided a CrossFit gym was a great place to start working my way back to the person I once was, physically and mentally.
The national CrossFit website explains the workout with a bunch of "forging elite athletes" mumbo jumbo, but the general idea is that it is a full body workout with emphasis on conditioning and core strengthening… or something to that effect. There are CrossFit places are all over the Temecula Valley, seemingly in every strip mall in town, and I chose 79 South CrossFit for my husband and myself, solely for the fact that it was about a block away from my house and allowed me to get in a workout during the baby's nap time. Maybe I should have done some research but honestly, a gym is a gym, right?
I realized that starting a new fitness regimen was a perfect topic for a personal column so, not being one to go "undercover," I let 79 South CrossFit co-owner, Quinn Cloninger, know what I was going to be doing. This allowed me to conduct interviews with trainers and learn the ins-and-outs of the CrossFit experience without hiding my true identity (I'm Batman).
Essentially a CrossFit novice, Cloninger enrolled me in his training camp where, two times a day, he instructs newbies on proper technique with the equipment, proper form when doing the exercises, as well as instruction in their extensive warm up routine and "mobility" methods; ways to cool down and stretch your muscles after the workout, preventing injury and alleviating future soreness. And we learn all of this stuff while still getting a really stellar work out.
Generally, in a training camp session, we do things like pushups, pull ups, light weights, squats, "ab mats," which is a fancy term for sit ups with a little back support pillow, cardio exercises like rowing and jump rope, etc. We've even been taught the correct technique for long distance running, which I found especially fascinating due to my attachment to "The Mouse" and his uber-expensive races.
On any given day, an example of a typical training camp workout would be:
Warm Up Stretches
Rowing Circuit (100 m "sprint" then 100m "coast" – 8 rounds of each = 1,600 meters)
30 seconds of squats, 30 seconds of ring pull ups, 30 seconds of "ab mats" and 30 seconds of pushups (5 rounds each – no rest!)
Turkish get-ups for 5 minutes, each side (You don't want to know what these are)
Mobility stretching and cool down
And if you think that sounds tough, Tuesdays and Thursdays in training camp incorporate yoga techniques for yet another approach to all-over physical fitness. And what I've discovered is that I am really NOT good at yoga.
For the record – my husband did a few baseline exercises the very first day and was advanced up to the "real" class, even though he's done virtually nothing athletic except recreational softball and the occasional pickup basketball game for the entire length of our marriage. (Ugh. Must be nice to be male.) Although I can't personally testify to what the actual CrossFit workouts are like, outside the training camp, they look incredibly challenging and rewarding, not to mention the hubby says they routinely "kick his ass," so I'm thinking they are meeting his physical fitness needs.
Now, my experience as a new client was unique because the trainers all knew I was writing a story and I found myself getting all sorts of personal attention. My accomplishments were being praised and my weaknesses were being identified, corrected and improved. Because I was a reporter taking note of their every little behavior, the trainers were all taking the time to know my name, they were greeting me when I arrived and they were bound and determined to make me a better me. They had to do this, because I was going to report to my readers about everything I went through and they wanted to look their best. And, I have to say, it felt good to be special.
But, just as I started patting myself on the back for being kind of a big deal (thinking about my leather-bound books and apartment that smells of rich mahogany), I took a moment to actually look at what was going on around me. All over the gym were other clients, regular folk, if you will, receiving personal attention from the trainers; having their form corrected and their accomplishments praised. All around me, the staff was making sure that everyone in the room – people of all shapes, sizes and ages – were the best them they could be and that everyone in the room felt special.
After the air in my inflated head seeped out slowly through my ears, I realized what a testament it was to the work ethic of the staff that I actually felt important, though I was a bit misguided in my reasoning. It was obvious that everyone at 79 South CrossFit really did care about their customers' personal goals and wanted to help them be achieved.
"I think of our members like [they are] part of a great big extended family – all are unique with different issues and needs – and I love all of them and want to help them live happy, healthy, productive lives," Cloninger said. "What brings me the most reward is when I see [a member] accomplish something they thought was unattainable. It is a feeling very similar to when your kids do something for the first time and their joy, wonder, and amazement are through the roof."
The truth was, my being a writer was a non-issue because what the staff at 79 South CrossFit were already doing on a daily basis was enough to garner a rave review from anyone, journalist or otherwise, and my training camp team can attest to feeling the same way. For example, one day, five minutes into the workout, Cloninger pulled aside another member of my class, Jimmy Calas, and told him he could tell that he hadn't eaten lunch that day. Calas was quickly handed what looked like a little squeezable applesauce, which I found out later was fruit and protein and some other nutritious stuff designed for athletes, not elementary school lunch boxes. As it turned out, Calas hadn't eaten since breakfast and Cloninger's intuition was spot on.
"Having seen firsthand how knowledgeable [Cloninger] is makes me trust him even more. I know he truly cares about my health and I think, in general, that's the philosophy for the entire gym as a whole," Calas said. "They emphasize truly functional fitness that's attainable for the rest of your life. It's not just about how much you are lifting or what exercises you can do or how much weight you have lost, but instead it's about how you are doing as a person and how you are living your life. When you think about it, that's what everyone in your family wants for you and that really resonates into the entire culture of the gym, which really is like a family. And that's what I truly love about this gym."
I've been to a number of $9/month cookie-cutter gyms and, although I would check in at the exact same time every day for months, nobody knew who I was. Nobody recognized my face or welcomed me back. Nobody cared that my knees were hyperextending and I was an MCL tear waiting to happen (something Cloninger diagnosed on day one). The staff at those other gyms never asked if I had eaten enough to fuel my body and they didn't care if I was having a bad day. These are the places that have you sign in with a number instead of your name because that is what you are – one number out of thousands.
Now I'm not looking to write a giant advertisement nor is anyone paying me to say any of this. The point of this story was to tell about my foray into CrossFit in general but it's my job, though self-appointed, to share with my readers anywhere and anything that is extra-special about the Temecula Valley. A lot of small businesses, like 79 South CrossFit, fall into that extra-special category and I wanted to make sure you know about these places when I discover them for myself. Everyone at 79 South CrossFit cares. It's that simple. They care about my well-being and they will care about yours.
So, what are my results, you ask? Well, I've been doing the training camp for about six weeks now and I've lost 7 pounds and a pant size; and that is without really changing my terrible diet (don't tell my trainers). Imagine what I could accomplish if I followed their dietary advice!
After just taking the leap of faith, prying myself off the couch and trying something new and a bit scary, I feel so much better about what I can accomplish and, quite frankly, I'm proud of myself. If any of you choose to join a CrossFit gym, or any other fitness routine for that matter, I think you would be proud of yourself, too.
As adults, we spend so much time building up our children's self-esteem, telling them they can accomplish anything if they just put their minds to it but, in between jobs and carpools and house payments, how often do we really get to reinvent who we are as people? Well, I'm handing you an opportunity to do just that.
So, if you need a way to jump start your own self-improvement, whether it be to lose weight, gain muscle, or just feel better from the inside out, I recommend giving CrossFit a try. To prove my sincerity, Cloninger and his partners at 79 South CrossFit have agreed to offer What's Up? Temecula readers a free two-week trial membership when you mention this story. If you join the training camp with me, make sure you introduce yourself and tell me I helped motivate you. (I'd love to start thinking about those leather-bound books again.)
But here's the kicker, people. Joining the gym wasn't the life-changing part.
Despite how awesome my reintroduction to CrossFit has been, the difference was when Cloninger noticed I just wasn't acting like myself. After a conversation about how I was feeling specifically, Cloninger referred me to their adjoining medical clinic, Pow Medical. Yes, 79 South CrossFit has a state-of-the-art medical clinic right inside.
I went in this week for an appointment with the physician on staff. Though I don't have my results, the doctor has a strong feeling about my diagnosis and she thinks it is something easily treatable but can be, in her words, "totally life-changing" and taking care of it has the potential to significantly improve my physical and mental health. It's another story still waiting for a conclusion, but it's a story that definitely needs to be told.
According to my doctor, many women as well as men have the same symptoms I do but seldom seek medical help so I'm willing to share my experience at Pow Medical to hopefully inspire some of you to follow my lead and get checked out for yourselves. After I receive my official diagnosis and treatment, I'll let you know what's going on. So stay tuned.