15 Things That (No Longer) Perplex Me About the Temecula Valley: PART 1
(Disclaimer: If you have not yet read "15 Things That Perplex Me About the Temecula Valley," you might want to do so now.)
Less than two months ago, my husband and I were out taking pictures for a website I envisioned would spotlight arts, entertainment and events in our hometown. As we toured Temecula, taking atmospheric shots of things like buildings in Old Town and grapes on a vine, I started pointing out various aspects of the city that had always confused me. These photos became my column, "15 Things That Perplex Me About the Temecula Valley."
Well, apparently a lot of our readers were able to relate to my confusion because that little column ended up being our most read article, by thousands of readers. Suddenly it was being forwarded all over social media and I was receiving comments and emails about everything from people who enjoyed the humor, those who were grossly appalled at my historical ignorance and those who sincerely wanted to educate me on that which I did not understand. I definitely pushed some buttons.
What choice did I have but to do a little research and actually answer some of the questions that have been not only weighing on my mind, but apparently on yours as well. It is still a work in progress; I'm still waiting to hear from a few city workers on the city streets questions, for example, but I figured I would get you started with what I have discovered thus far.
So, I give you "15 Things That (No Longer) Perplex Me About the Temecula Valley: Part 1 of 3"
Question #1: Why are we considered non-San Diego enough to NOT get Padres games, but San Diego enough to have Charger games blacked out?
Answer:
This one comes down to location, location, location.
The NFL Local Blackout Rule defines "local" as any affiliate broadcast network within a 75 mile (121 km) radius. HOWEVER, there are a few exceptions…and this is the kicker (pun intended)…there is a caveat in the rule book which explains that nearby large cities, namely those who do not have their own NFL team, could have the mileage radius extended to try to draw those fans to the nearest NFL stadium. So, although our television affiliate is based in Los Angeles, which is 116 miles from San Diego, the Chargers are the closest NFL team to LA. Because of this we are, in a word, sacked.
And from what I can see, Los Angeles hasn't converted to a Charger city, regardless of the rationale behind the rule. Instead we just get scary spike-covered Raiders fans at our home games.
There is a light at the end of the tunnel….maybe. On September 9th, USA Today published an editorial written by FCC Chairman Tom Wheeler, stating that the black outs are outdated and unnecessary and he has proposed a lift on the rule. It is being put to a vote on September 30th. Fingers crossed…
For Padres' games, I've always known the answer, but basically wanted to vent. Our television affiliates are based in Los Angeles. Temecula is in Riverside County, which is considered part of the Los Angeles area, and therefore, we are stuck with the Dodgers and the Angels games. Unless, of course, they are in some kind of cable dispute and we have to start watching Cubs games on WGN.
(Remember the good old days when we used to get KUSI San Diego up here? That was cool.)
Question #3: Why does Temecula Dance Company have their (totally awesome) recitals in North Lake Elsinore?
Answer:
I spoke with Lani Morel, Owner and Director of Temecula Dance Company, and this is apparently an issue they have been trying to remedy for quite some time.
"We would so love to perform our shows in Temecula or Murrieta, but we just really need a performing arts theater that can seat 1000," Morel said. "Unfortunately, there is not a theater in the Temecula Valley that can accommodate us at this time."
Morel turned to Lakeside High School in Lake Elsinore because they can seat 750 people and the technological capabilities, as well as the backstage accommodations, are basically unheard of for a school performing arts center.
"During the construction of this theater, they were blessed with generous donors who provided state-of-the-art sound and lighting boards," Morel said. "In addition, their fly system allows for multiple backdrops, such as those used in our 'Father and Daughter' number and the closing production performance.  They also have an amazing back stage area that can house up to 300 children in a safe and organized manner."
Though they would very much like to hold their recitals closer to the Temecula area, it just isn't a possibility at this time. I think those of us who have seen these shows can attest to the fact that they are well worth the drive!
Question #4: I'm sure a lot of you have seen this building in Old Town, across the street from Pennypickle's Workshop. Will somebody please tell me what it is? Considering the premiere location, shouldn't someone buy this property and turn it into the Old Town Boutique Hotel and Spa?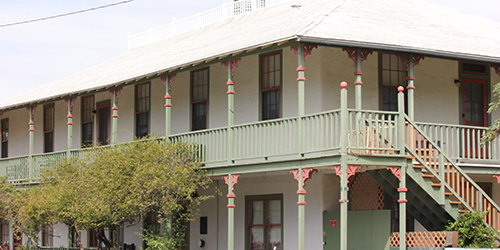 Answer:
Coincidentally, there was a big change for this little building right after I first posted my column, but first a little background.
This building was built in Old Town 1891 and was called The Depot House because it overlooked the train depot across the creek. It was renamed The Hotel Temecula in 1915 and operated as a hotel, under various proprietors, until it was sold to the Parker Family in 1960.
Local artist Leverne Parker, who had survived her husband, lived inside the hotel until her death in 2004. Recently, Parker's daughters sold the property to a Canyon Lake couple, attorneys Richard Beck and Christine Greer.
"They both went to Lake Elsinore High School," Greer said of the Parkers, during a recent phone interview. "She was an artist and he was a very famous animal doctor over on Balboa Island. When they decided they wanted to come back to the area, there was a law that said you had to buy real estate here. So, they bought the hotel and used it as their private residence."
Upon purchasing the property, which has eleven rooms upstairs and three apartments downstairs, Beck and Greer also acquired all of the furnishings, which have basically stood untouched for a century.
"The rooms are floor-to-ceiling antiques," Greer said. "All the quilts, all the gloves, all the purses and hat stands, they are preserving the history of the last hundred years. So, what we want to do is rope off a few of the hotel rooms, kind of like a museum. One of my thoughts was to preserve some of the smaller items by putting shadow boxes in each of the bedrooms to preserve some of the history there. This is all in the beginning planning stages, of course. It changes every week."
Beck and Greer are currently working with the city to finalize their renovation plans and have yet to set a timeframe for the landmark's reopening. They are hoping to return The Hotel Temecula to her former glory but, although it will be zoned as a special events venue, this boutique hotel has no immediate plans for a spa.
Question #5: Do we really need so many nail salons and frozen yogurt places? (I know this was in my first column, but I think it bears repeating.)
Answer:
Okay, for this one, I just let it go. Outside of going up to the owner of the new yogurt place on Temecula Parkway and ask what they were thinking, opening a yogurt place within a half-mile radius of three others, there wasn't much I could do. Who am I to burst their entrepreneurial bubble?
Question #7: Why does Refuge Brewery have a giant painting of Dick Dale over the bar?

Answer:
For this one, I first turned to Refuge Brewery owner, Curt Kucera, who explained where the painting came from in the first place.
"Dick Dale is like the Godfather of the music movement, in my mind, with the surf guitar," Kucera said. "There is just no one like him. We were lucky enough to have a friend of ours who is a painter and he painted it because we just love him."
That friend, Artist James Crouch, happened to be at Refuge Brewery the same night I was there and he explained a little bit further how the painting came to be.
"I do mostly rock and roll paintings because music is a huge passion in my life," Crouch said. "Dick Dale is a friend that I've known for like thirty years and he's actually an American original. He's a music icon. He's a one-of-a-kind guy and I draw a lot of inspiration from that. So, I had an art show here and he was someone I chose to paint."
But how did it end up behind the bar at Refuge Brewery?
"The original idea was to bring some of my work in here to Refuge but luckily I seem to be selling them faster than I can paint them," Crouch said. "And he looked kind of good on that spot on the wall so we just kind of left him."
If you are interested in Crouch's work, he suggested following him on Instagram at @jcrouchofficial.
Question #8: Weren't we supposed to get a water park at some point?
Answer:
Now I know that my realtor told us that Temecula was in the process of getting a water park when we were first looking at the area in 2006. It was supposed to be called Temecula Splash Canyon and, at the time, there was even a website with stock photos of happy kids playing in splash zones and a cartoon Koala, or maybe a duck, apparently was supposed to be the park mascot. Sadly, the koala-duck's home never came to be and the website has since been taken down. I did find this logo, which still remains as part of Facebook folklore: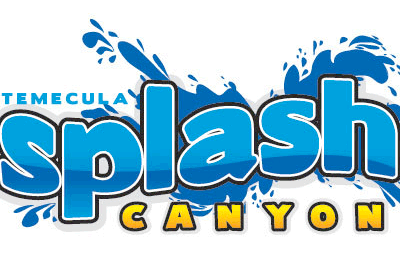 In reality, the parcel of land being considered, which is 20 acres at the northwest corner of Dendy Parkway and Diaz Road, has been back and forth between the city and proposed buyers for many years. Funding always fell through or the land wasn't what the potential buyer had in mind.
However, the latest development in this ongoing saga took place in July of this year, where the city council approved a deal to sell the land to the developer responsible for the Wild Rivers Waterpark, which was once a popular attraction up in Irvine. The two sides only had to decide on one important aspect; the sale price.
The purchase deadline was extended one month, and then again, due to negotiations. Earlier this month, the President of the Wild Rivers Development Company, Mike Riedel, was reported as saying that the park was on tap to open in conjunction with a new sister park being developed in Orange County. Opening date, tbd, of course.
So, I think that's enough for now. The remainder of the questions, several of which have to do with city planning and maps, are still in the works. So, take a deep breath after absorbing all of that information.
Like us on Facebook, if you haven't already, so you don't miss the next exciting installment…
In the meantime, did this clear anything up for you?